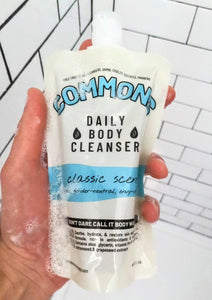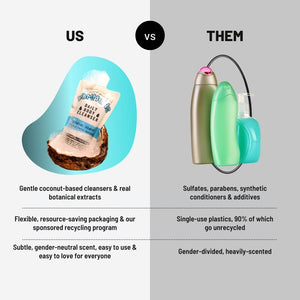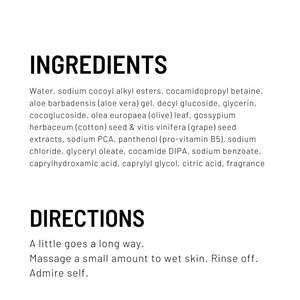 Replace over-priced, over-scented, & over-hyped body washes with our Daily Body Cleanser. Plant-based, junk-free, & made for all genders & skin types.
Keep it Simple. Keep it Premium.
Our Daily Body Cleanser is a modern classic. Made with coconut-based cleansers and real botanical extracts, it lathers up luxuriously without stripping and drying your skin.
Everything you need, nothing you don't.
Subtle & Gender-Neutral
Nothing has defined the personal care industry more than gender. The idea that men and women need different products is mostly just BS marketing stuff.
What matters most is a high-quality ingredient list and a subdued scent everyone can love. And you'll get both in our Daily Body Cleanser.
Ingredients

Here's what's inside:
Aloe barbadensis (aloe vera) gel: 

The undisputed champion of plant-based anti-inflammatory moisturizers.
Decyl glucoside,

 

sodium cocoyl alkyl esters, 

cocamidopropyl betaine, cocoglucoside, cocamide DIPA

: 

Gentle coconut-based surfactants.
Glycerin:

 

P

lant-derived moisturizer that attracts water into the skin.
Olea europaea (olive) leaf, gossypium herbaceum (cotton) seed, vitis vinifera (grape) seed extracts:

 

A

nti-oxidant and anti-inflammatory fatty acids.
Glyceryl oleate:

 

G

lycerin and oleic acid combination used for consistency.
Sodium benzoate:

 

A

nti-fungal agent.
Capryl hydroxamic acid, caprylyl glycol:

 

C

oconut oil-based ingredients that inhibit spoilage and act as humectant moisturizers.
Sodium PCA:

 

Naturally-derived

 

hydrating agent, an amino acid found

 in human skin known as Proline.
Panthenol (pro-vitamin B5): 

When absorbed by the skin, provides soothing, healing, restorative care.
Citric acid: 

Naturally-occurring exfoliator, pore cleaner, and skin toner.
Fragrance: 

Phthalate-free fragrance oil.
Great for sensitive skin
I have sensitive skin and eczema, so finding a cleanser is difficult. This product works for me with no issues! It leaves my skin light, clean and not dried out. I love that the ingredients are simple and without the added "junk" like dyes.
Amazing cleanser
Love this cleanser! It smells fresh and I love knowing exactly what's in it!
It's not enough to put good stuff in. You have to keep the bad stuff out. Our formulas are plant-based, full of rich botanicals, and free of junk like sulfates and parabens.
BUY NOW
Only 5% of plastics get recycled in the US. So we're making every effort to package products smartly (like using flexible pouches). And we sponsor a pretty cool recycling program.
RECYCLING PROGRAM
BUY NOW
FAQ
Q: How long does 1 pouch last?
A: A little goes a long way! A pouch should last you about a month or so.
Q: How does it smell?
A: It's subtle, refined, & loveable. Black tea, bergamot, & light citrus notes all show up in a classic gender-neutral scent.
Q: How do I use it?
A: Use just like you would a body wash. Safe to use every day.