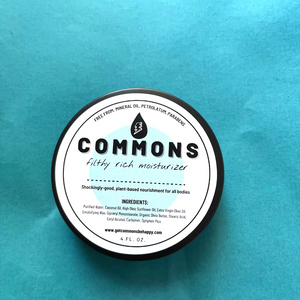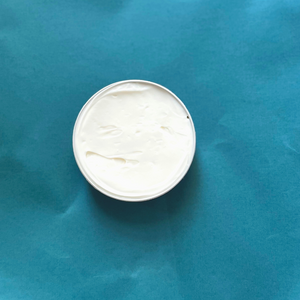 Moisturizer - Filthy Rich Moisturizer
---
When we put the Filthy Rich Moisturizer out for testing, people couldn't keep their hands off of it. Someone cleaned out our first shipment after trying it at our sample station.
It's gender-neutral, plant-based, and completely unscented.
Keep it Simple. Keep it Premium.
This body moisturizer stars the undisputed champs of plant-based skincare: Coconut oil, high oleic sunflower oil (a huge cut above the regular stuff), extra virgin olive oil, and organic shea butter.
Lots of body moisturizers use petrolatum, also known as petroleum jelly. If you're thinking "petrol" as you read that, you're right - it's derived from crude oil. 
It's a cheap skincare shortcut and we'll have none of it.
On the other hand, here's what's in our Filthy Rich Moisturizer...
Ingredients
Coconut Oil:

Super-rich in fatty acids, has anti-inflammatory properties. Nature's soothing, nourishing moisturizer.
High Oleic Sunflower Oil:

Packed with Omega-3, Omega-6, and Omega-9 fatty acids. Helps soften skin and ease redness and irritation.
Extra Virgin Olive Oil:

Vitamin and antioxidant-rich, it helps your skin retain moisture. And moisture is the essence of wetness (credit: Zoolander).
Emulsifying Wax 93725SC:

Purely a consistency ingredient, it ensures this product stays truly filthy rich.
Glyceryl Monostearate:

Another plant-based consistency ingredient that emulsifies and stabilizes.
Organic Shea Butter:

A classic skincare MVP, organic shea butter brings rich, vitamin-packed emollient moisturizing to relieve dryness, soothe irritation, and protect your skin.
Stearic Acid:

A fatty acid that works as both an emulsifier (for consistency) and an additional emollient to soften skin.
Cetyl Alcohol:

Another plant-based emulsifier that keeps things stable
Carbomer:

Provides an ideal thick, smooth, and stable texture.
Optiphen Plus:

Preserves plant-based ingredients without use of parabens or formaldehyde.
It's not enough to put good stuff in. You have to keep the bad stuff out. No cheap shortcuts like petroleum jelly - just plant-based nourishment for your skin.