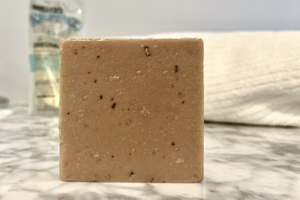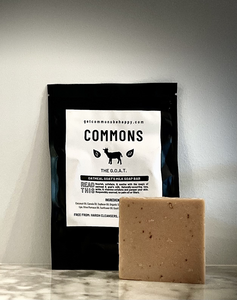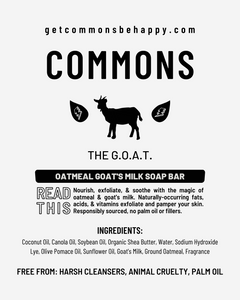 Bar Soap - Oatmeal Goat's Milk
---
Behold…our Oatmeal Goat's Milk soap bar.
A true-to-definition soap, it's handmade the hard way via cold process and curing. It features hormone-free, organic goat's milk, known for its incredible moisture, gentle exfoliation, and skin-rejuvenating properties.
This soap bar also has ground oatmeal for texture, soothing, and more exfoliation.
Oh…and it smells like an oatmeal dream.
Bar Soap - Oatmeal Goat's Milk
Amazing Quality
We are all about supporting small businesses like ours however, "Commons" is going to be HUGE!!!! Truly is a great quality product and all of our customers LOVE it as do we!!!!
My new favorite soap!
I recently ordered Commons for the first time and absolutely love the quality of this product! It smells great but subtle and leaves my skin soft and moisturized, unlike other soaps that dry out my skin. Gifting this to all of my family this holiday season!
These soaps are packed with high-quality ingredients like coconut oil and organic shea butter. The only difference between these and our vegan soaps is the goat's milk...
These soaps use real, organic, hormone-free goat's milk. Not milk powder like you might find in other brands. It's rich in texture and alongside ground oatmeal, exfoliates just enough.